When you hire All Roof Solutions Commercial you know you're getting a full-service, and fully licensed, company that specializes in all things roofing. But, if you've never had commercial contractors work on your business property, you might not know what that process looks like. What's the process of doing business with All Roof Solutions Commercial?
Estimate Process
Once you decide you need a commercial contractor to work on your property, call All Roof Solutions Commercial, in Kennesaw, GA, to schedule an appointment for a free estimate. Depending on the work, you might not need to be on-site for the estimate. A professional team member will visit the site and send you an estimate within 72 hours, usually. It's that simple.

Review the estimate and compare it with others. During this process, make sure the various estimates are for similar work. It's important to call, or email, with any questions or concerns about the scope of work or difference in pricing.
Once you're comfortable with the estimate and ready to move forward, sign your proposal. Then, put your feet up! A scheduling coordinator will reach out about details and next steps.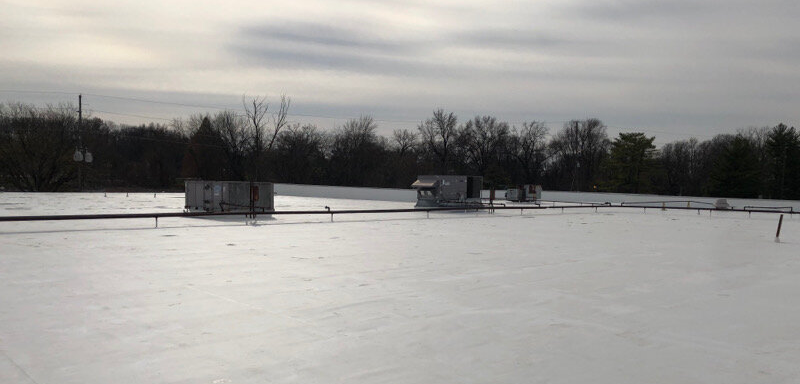 Frequently Asked Questions
Do you inspect my entire roof when you do an estimate?
Our no-cost inspection and estimate includes the entire roof and recommendations. We also offer a very detailed inspection, including pictures and a report for a small fee per square foot.
When is payment due? Do you finance? What are payment options?
Most contracts ask for 50% when materials are delivered to the job site - and the remainder upon completion. Unfortunately, we do not offer in-house financing for commercial projects. You can submit payment via check or bank draft. There is a 5% fee for any credit card payment.
Why is All Roof Solutions Commercial's estimate higher, or lower, than the other bids I received?
Usually, this is because the materials or scope of work from one estimate to the next are not the same. Many contractors will submit a low bid, but include additional line items that will add to the cost and completion time. At ARSC, the proposal includes all realistic costs, so a property owner doesn't have any surprise costs at the end of the job.
Will I see my estimator again after I sign the contract?
Absolutely! Your estimator will be included in the entire process along the way, so that he is aware of what is going on with your job. You always can contact your estimator with any questions or concerns.
What coverage do you provide for my new roof?
Most of our roof replacements come with a manufacturer no dollar limit (NDL) warranty from GAF for 20 years. Because we are certified Master Select Contractors with GAF, the manufacturer will inspect the roof and back up the warranty - even if we can't!